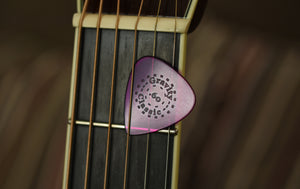 There are 10 variations.  Available as a 1-pack, 3-pack, 10-pack or 25-pack.
Classic Standard .60mm
Classic Standard .77mm
Classic Standard .90mm
Classic Standard 1.10mm
Sunrise Standard .90mm
Sunrise Standard 1.10mm
Razer Standard .90mm
Razer Standard 1.10mm
Stealth Standard .90mm
Stealth Standard 1.10mm
awesome sound
a neighbor introduced me to gravity picks. My Martin never sounded so go!
Small Thin Wedge with A Big Function Does Good!!
I have found that a thin guitar pick can help you with a fast rhythm and at the same time interfere with a clean tone. However, the gravity thin pick provides the flex I need without the unwanted plastic clicking sound. I Like the classic but really like the .75 gold the best. I just wish there was a way to stop losing them because they are a bit pricy! Fortunately they seem to show up in the washing machine! Despite the price I will buy again because they sound and feel great!! Highly recommend!
Excellent picks
Perfect size for me with great grip.
Exclusive
Gravity thin picks have been a savior for me. Being older (70yrs) old, trying to triple pick when playing some Venture tunes have been a challenge. The 77 Classic thin has been a life saver for me! Can't see using anything else going forward.