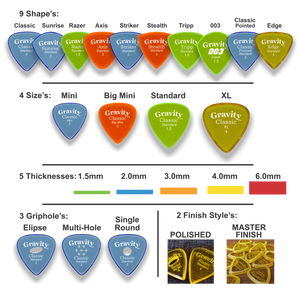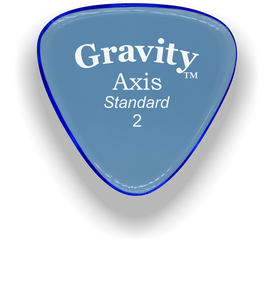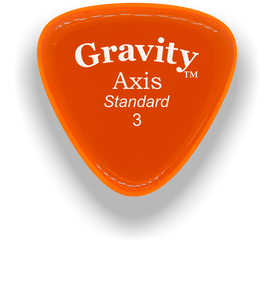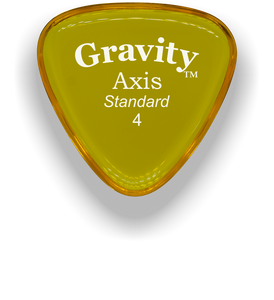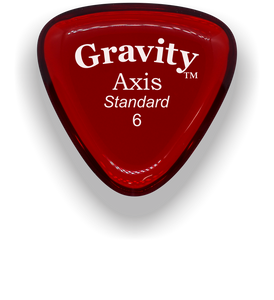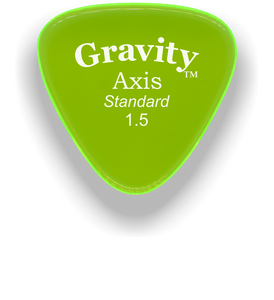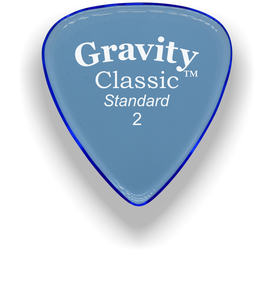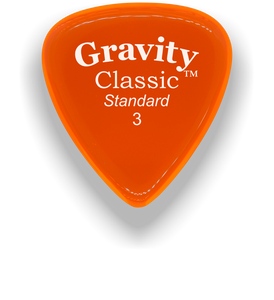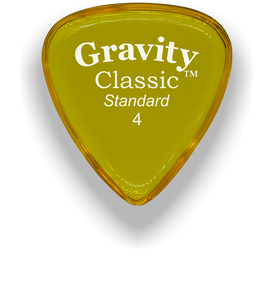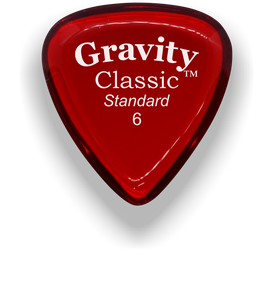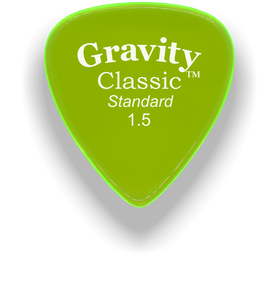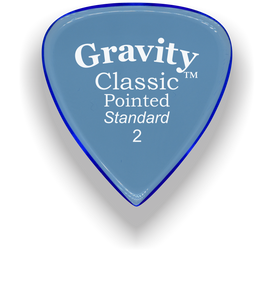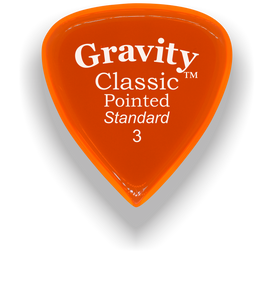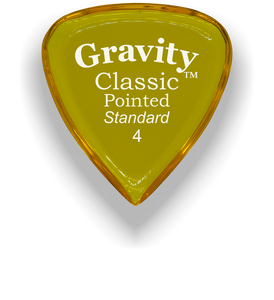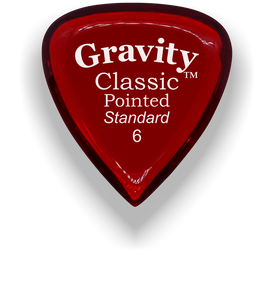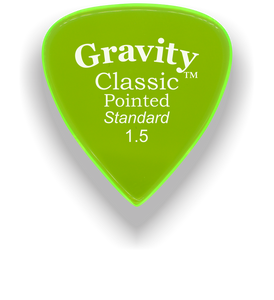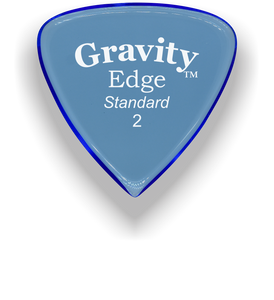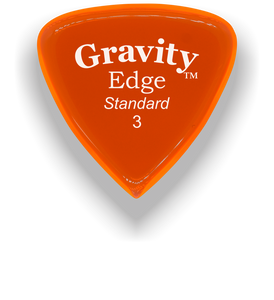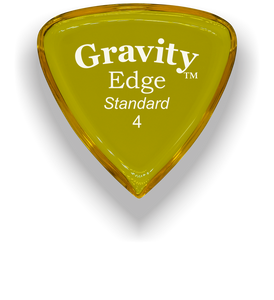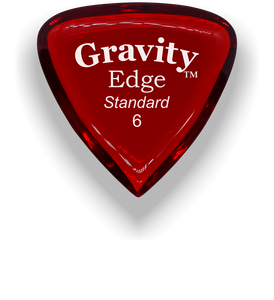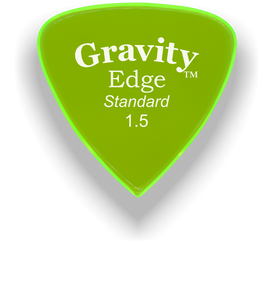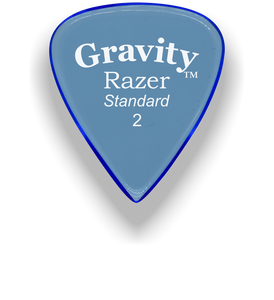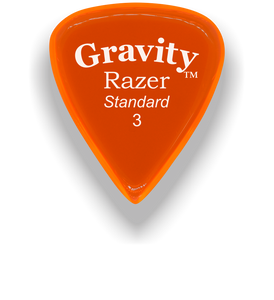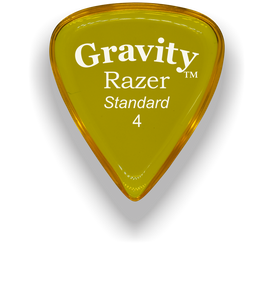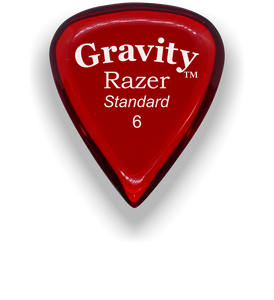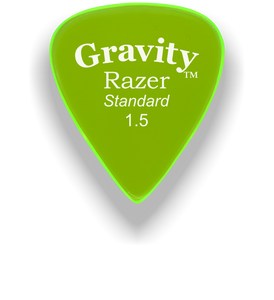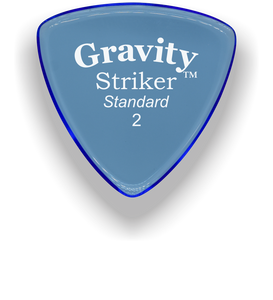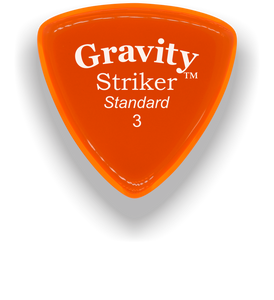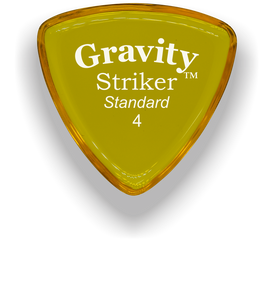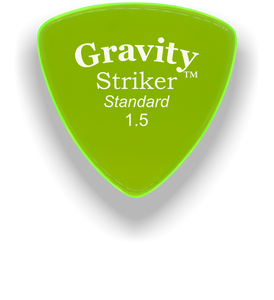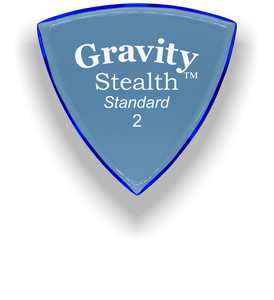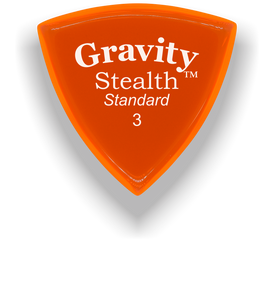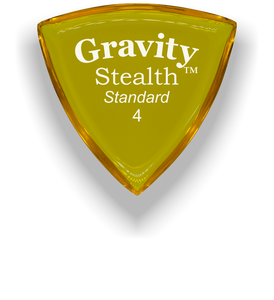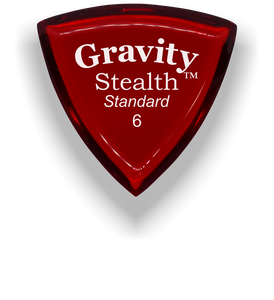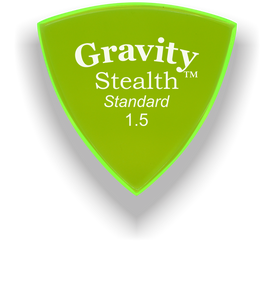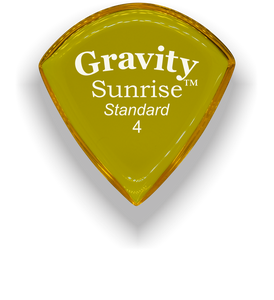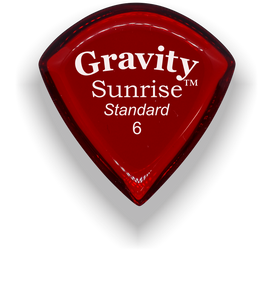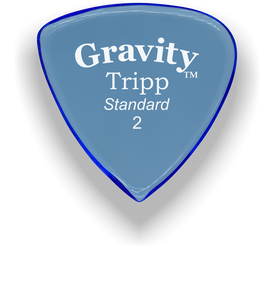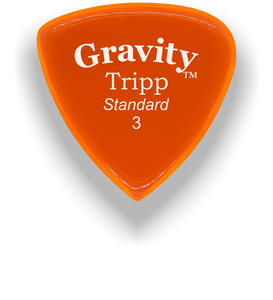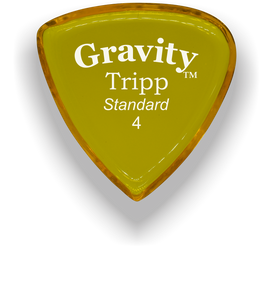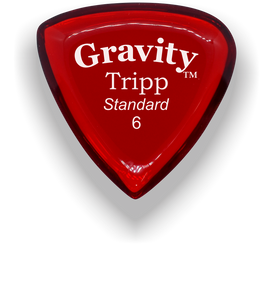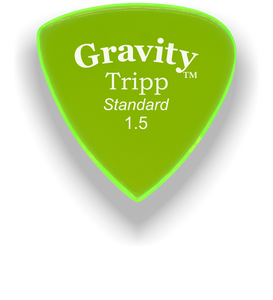 Click Here For Options Matrix
Click Here For Sizing Chart
REASONS TO USE A GRAVITY PICK
-Shaped And Polished By Professionals To Bring You A Quality Product That Cannot Be Matched At This Price Point.
-Acrylic grips very well as has the ability to glide across the strings with very little resistance.
-Instant Tone Improvement.
-Play Faster And Louder With Our Unique Material And Bevel Design.
-Proprietary Beveling System To Give The Most Consistent Bevels Possible. You Will Receive A Consistent Product Each And Every Time You Order.
-Lasts Much Longer Than A Regular Pick.

POLISHED VS MASTER FINISH
The bevels on each pick are shaped on a grinding wheel which creates rough bevels. Those bevels are then polished or left unpolished (which we call 'Master Finish').
The Polished version glides across the strings with very little effort.
The Master Finish (unpolished) version is a bit brighter and creates a different release off the string. It allows you to 'dig in' a bit more. It is just a personal preference.

GRIP HOLES
The minimum thickness for the grip holes is 2mm. We cannot offer the grip holes in the 1.5mm thickness because they can break easily. I apologize for the inconvenience. Please try the 2mm. Most players are able to adjust up to the 2mm.
Pick Review
The quality is good and I like it.
It took some time after arriving in our country.(South Korea)
It seems worth the wait.
Gravity Picks are the Best
The craftsmanship of these picks is unsurpassed and the sound is great!
My favorite pick!
I love the Gravity Acrylic Pick, Classic, Standard, with the 1.5 thickness. I do use other picks, depending on the sound and feel of the song, but the Gravity acrylic classic 1.5 mm is my favorite. I carry at least one of them on me all of the time in case I encounter a random guitar opportunity.
Best pick I've ever used
I've played for 19 years and was always a medium guy then went to heavy and nothing seemed to be heavy enough so I did some digging and found these guys. I've played for 19 years and the 6mm is the best pick I've used. It seems insane but it gives so much control and makes playing so easy, the thing was practically made for pinch harmonics and sweeping but it plays absolutely anything beautifully acoustic or electric. And this was my first order and there was a blunder with shipping so to make it right I got what I ordered and a free surprise 4mm pointed pick, it's also amazing. Can't recommend these enough.
These picks are the best!
I am an acoustic guitar player, singer/songwriter. A good guitar tone and decent picking are an important part of music making for me. I have a huge stash of picks that I've gathered over the years, as I'm sure many of you do. The only flat picks in my pocket are Gravity Picks! I'm partial to the Sunrise 1.5 with the polished edges, though I have tried many shapes and sizes. I like the master finish, too, as it allows me to get more "dig" with the pick. I find the tone with the master finish picks is a little too "grating." I still have both finishes! What I like most about the Gravity acrylic picks: Easy to hold, nice and grippy. The picks can be easily angled for different tones/string attack. The bevel is consistent and awesome. The pick density allows the player to coax some good volume and "thickness" from the guitar. Lastly, for high quality picks these are a great value!