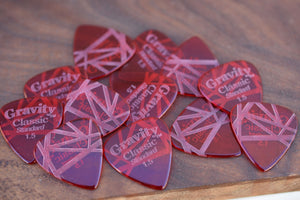 Classic Standard 1.5mm.  If you want any other variation, this etching option is available in the
Acrylic Custom Shop
.
Just like the classic, but easier to hold
Love me some gravity picks. But as a sweating dude I drop them a lot. The stripes really help the grip. Love them.
Great picks
Great picks, only downside are the thickness, wish there were more in the 0.60-0.88 range as these sound kinda dead on lead parts with an acoustic, strumming they ring though
Amazing
I loved the idea and it's a great tribute to the king Edward
Excellent all around pick
I like the thickness, at 1.5 mm, and the very slight flexibility gives me the tone and control I want. The "stripes" actually give me extra grip so I don't drop it. The stripes also give it that unmistakable EVH feel, great for rhythm/chords, and fine for most soloing. I also recommend the pointed picks, like the Sunrise, Stealth, or Razer for shredding and faster solos. You can tell a difference with the speedy parts.