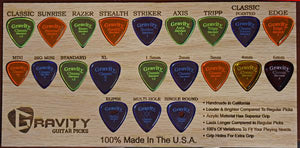 This is a product we are proud to offer. This educational / sales tool easily explains the Gravity brand and allows you to see all of the different shapes side by side.
Handmade in California by a local craftsman.
There is over $125 worth of product on the board and the board has a value of $50.
How can I play and display all at once?!
Beautiful wood board and amazing cross-section of picks. I want to hang this on the wall, but then I want the play. But then I want to hang them on the wall ... ! Wonderful stuff.